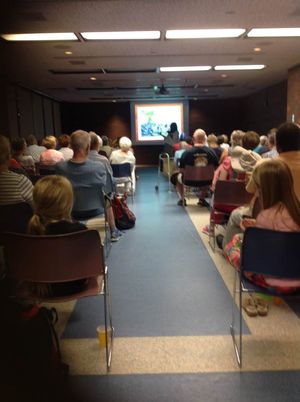 Winsor Programs Challenge, Empower, Inspire and Educate! Book A Program Today!
Affectionately known as Dr. Nay, Naima would love to be of service to your organization by bringing one of her dynamic programs to your community! For more information or booking contact us via the following link: Program Booking
Current Program Listing

Programs for Music and History Lovers

Spiritual Songs, a Musical Legacy of the History of the Negro Spiritual
 
Dr. Nay's most requested program! Dr. Johnston-Bush presents a musical adventure that explores the Negro Spiritual as a historical American art form! Great for libraries, house concerts, schools, civic and community organizations, cultural programs, and historical societies, Dr. Johnston-Bush enraptures her audience with the stories behind the spirituals, little known facts and a dynamic voice that brings each song alive! Tracing the history of this powerful musical expression of faith, Dr. Johnston-Bush leads her participants from the 1600's to the present illustrating the impact and influence of African American Spiritual Music in all musical genres today!
This Lady Sings The Blues
Come along on a historical musical adventure and discover the roots of music that eased the soul, expressed pain and caused the crowd to forget their troubles.  Learn the true stories behind the lives of some of the greatest singers of all time.  Bessie Smith, Ethel Waters, Billie Holiday and others come alive as Dr. Naima Johnston Bush shares and sings the history behind the early years of this original American musical art form, originally dominated and pioneered by women.
This new dynamic musical lecture covers the music of the Civil Rights movement, while highlighting the historical events that shaped the nation we live in today.
Unsung
 
Who was the African American Female spy cooking in the kitchens of the Confederate White House? What really happened in the free state of Jones? Why did African American soldiers sing about John Brown's Body moldering in the grave? Who launched the Underground Railroad? What was the name of the famous abolitionist newspaper launched by a White male in an effort to end the evils of slavery? In her newest program audiences will hear thrilling true adventures of Civil War Hero's whose accomplishments were lost to the past. Now emerging for the first time, Dr Bush shares these harrowing, sorrowful and engaging stories that must be told.
Songs of My Mothers
 
An engaging musical presentation that introduces the audience to great American singers such: as Mahalia Jackson, Nina Simone, Billie Holiday and Ethel Waters. This program shares life lessons and great historical moments as seen through the eyes of great American female singers and stories shared from mother to daughter.

What I Didn't Learn In School – An Intro To Unknown African American History
 
This challenging program seeks to educate participants on various aspects of African American History that are often overlooked. What did Abraham Lincoln really think about African Americans? Who is William Lynch? And what actually happened in the Red Summer of 1919? Who was the real Lone Ranger? Discover this and much more in this exciting and thought provoking program!

She Steps To The Mic
 
She Steps To The Mic is an interactive, multimedia program examining the role of women in Hip Hop and rap music from the 1970's through today. Exploring the images of women as presented in a male dominated musical genre as well as highlighting those women who were able to break through the hip hop glass ceiling and find success, this program gives voice to women who are often held as trophies, objects or enemy in this African American created musical genre.

Echoes of My Sister's Voices
 
Join Dr. Naima Bush for an intriguing program that explores the lives of women trapped by the bondage of slavery. Using music, poetry, storytelling and narrative, Dr. Bush weaves a masterful historical offering that brings these women's voices to life! Life Stories Include: Anna Kingsley, From Slave to Plantation Mistress Sojourner Truth, Ani't She a Woman? Mariah of Carnton Plantation, Caring for the Enemy Dead The Women of Andrew Jackson's Hermitage Plantation Great for Black History or Women's History Month!
Mamma Griot and Her Rocking Story Bag!
In this interactive, family friendly program, Dr. Naima Johnston Bush shares traditional folktales and songs that participants choose and sometimes create by selecting items from her Rocking Story Bag. Performing as a griot, a member of a class of traveling poets, historians, musicians and storytellers who maintain a tradition or oral history in parts of West Africa.  Each item tucked away in Mamma's bag represents a story or song from countries around the world. This program is an engaging joyous celebration of music, the universal bonding that occurs through storytelling and the beauty of diversity.
There Are No Happy Endings – The Dark Side of Our Favorite Fairy Tales
Hold onto your hats! These are not your mother's versions of the childhood tales from your youth. Murder, mayhem, abuse and mutilation are just the tip of the iceberg when we delve deeper into the stories made famous by the Brother's Grimm. Join Dr. Naima Johnston Bush as she spins the original back stories of Cinderella, The Little Mermaid, Little Red Ridding Hood, Snow White and the awful fate of other fairy characters. Due to tense, adult situations, these are not stories you want your little ones to hear… unless you want to give them nightmares.
Hark! The Figgy Pudding! The History of Christmas Carols
This musical program is an interactive storytelling event that uncovers the histories behind the most beloved Christmas Carols and Songs. What is a "carol" anyway? Who is the true love in the 12 Days of Christmas? Why was the song Santa Claus Is Coming To Town based on a tragic event? What is a welkin and what does it have to do with angels harking? Discover the dirty little secret behind, Deck The Halls and so much more! Audiences will be treated to dynamic solos and several chances to sing along during this festive seasonal event.

Programs for Colleges and Organizations

Legacy Leadership
 
This program covers the importance of leaving a legacy, connecting to community, and using your leadership skills to impact the lives around you as well as those who will come after you, both on campus and in the workplace. Participants will explore the creation of a mission statement for their lives, examine the lives of leaders who have left an impact on not only the nation but the world and leave with an understanding of what a legacy is, how to start crafting one during their colleges careers and make both professional and personal choices to develop this legacy.

5 Things I Wish Someone Would Have Told Me Freshman Year!
 
This is an interactive workshop or chapel service program is perfect for high school students about to leave for college in the fall. Covering the areas from to much time online to getting to many credit cards, Dr. Nay gives participants practical guidelines to make their first year of college a true success! This workshop comes with a companion booklet.

Confessions of a Big Girl, Reflections on Fat, Faith and Femininity
 
Based on Dr. Nay's newest book release, this dramatic hour long presentation includes live music inspired by the book as well as a dramatic interpretation of the essays contained in the book. Confessions deals with issues such as, cultural definitions of beauty, faith, eating disorders, sexual assault and discovering the power of your own voice. A book signing and author meet and greet are also a part of this dynamic new program.

Survival Skills for Students of Color
 
This dynamic interactive program helps participants to develop the skills, attitudes and knowledge needed by students or professionals of color to ensure their successful tenure while obtaining their education or launching their careers. Learning to navigate the system, overcome boundaries and creating an action plan that ensures success are all discussed.

Lessons From The Back Seat
 
This engaging and humorous event is excellent for college chapel services or as a stand alone program. Working in ministry with married couples, as a single young woman, Dr. Nay spent many hours sitting in the back seat of the car as married couples forgetting she was present interacted in the front seat. In this event students learn: The 4 Stages of Singleness, learning to be content while waiting on the Lord for your spouse, preparing your heart for that special someone and what young singles should be doing while they are waiting to meet their future life partner.

Keynotes Addresses, Retreats, Program Creation

With over 20 years of experience in education, leadership, training and development, research, diversity and the performing arts, Dr. Bush is a powerful speaker, impacting and encouraging all that hear her. She is available for keynote addresses, retreat creation and leading and workshop and program design for your institution, organization, conference or special event.
For booking a program or for requests for Keynotes, retreats or other special events contact us by clicking here. Please include as much detail as possible about your specific event and needs.